Donald Bashor, 27, confessed to dozens of local burglaries and to the bludgeon slayings of Karil Graham and Laura Lindsay. Under intense police questioning Donald didn't admit to any further offenses, and as far as investigators could tell he'd revealed the extent of his crimes.
Deputy District Attorney Tom Finnerty issued a subpoena for Officer Donald C. Wesley, who had shot and wounded Bashor during his attempt to evade capture. Among the others called to appear before the grand jury were Detective Lieutenant Jack McCreadie, and autopsy surgeons Dr. Frederick Newbarr and Dr. Gerald K. Ridge.
Bashor was indicted on two counts of murder and two counts of burglary. The burglary charges stemmed from the looting of the apartment at 215 South Carondelet Street shared by Dorothy Cowan, Marcella Drews and Eunis Wingel. Lester E. Olson of 325 South Occidental Boulevard, was also burglarized by Bashor. Both crimes were committed about thirty minutes prior to the murder of Karil Graham.
The twenty-seven year-old killer pleaded not guilty by reason of insanity and his trial was set for August 14, 1956 in Judge Allen T. Lynch's court. Because of the insanity plea Bashor would undergo examination by alienists for the State and the defense before the trial.
There are often delays in murder trials and Bashor's was no exception, it didn't get underway until October 4, 1956.  The four alienists who examined Bashor deterined that he was sane when he committed the murders.
With the ultimate penalty on the table it was going to be a tough trial. But before the jury could be sworn in the defendant interrupted the proceedings to enter a guilty plea. Terrence Cooney, Bashor's attorney, was as dumbfounded by his client's move as was everyone else in the courtroom. Cooney didn't want any part of placing a banana peel between his client and the gas chamber so he refused to go forward. Bashor fired him.
With Cooney still standing next to Bashor, Superior Judge Allen T. Lynch explained to the defendant that the law prohibits acceptance of a guilty plea in a capital case without benefit of counsel. Cooney must have decided to bend to his client's will because Judge Lynch accepted the guilty plea. Along with the plea, Judge Lynch also accepted responsibility for determining Bashor's sentence.
On October 16, 1956, Judge Lynch was ready to pronounce sentence. The courtroom was quiet as the judge began to speak. "This is the most difficult duty I have ever had to perform. For the last four days I have been able to think of nothing else. These were cruel, brutal killings. I find no mitigating circumstances."
According to newspaper reports Judge Lynch appeared to have difficulty speaking. He paused for several long beats and then continued. "On counts one and three (the two murders) the court sentences you to suffer the death penalty. May God have mercy on your soul!"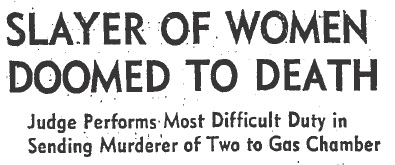 It took about a year for the California State Supreme Court to review the automatic appeal and affirm the death sentence in Bashor's case.
On October 10, 1957, the night before his scheduled execution, Donald Bashor refused a last meal and then he slept from 1:05 a.m. to 7:05 a.m. When he awoke he had toast and coffee. He read a handful of letters he had recently received and then turned to the Bible.
Unlike many killers, Donald Bashor seemed genuinely remorseful for the murders. His last words were: "I'm glad my crimes are coming to an end. I am sorry I cannot undo the horrible things I did."
Gas began to fill San Quentin's death chamber at 10:03 a.m. and at 10:12 a.m. Donald Keith Bashor was pronounced dead.
EPILOGUE
There was something about Donald Keith Bashor that set him apart from many other killers. It may have been his movie star good looks, or it may have been the fact that he  sought atonement for his crimes in the gas chamber. Whatever it was, Bashor's story became an episode of the prime time TV series PLAYHOUSE 90 in 1958.  Bashor was portrayed by Tab Hunter and the episode was narrated by former Los Angeles Mirror columnist Paul Coates. The highly rated episode was directed by Arthur Penn who would later direct such great films as The Miracle Worker and Bonnie & Clyde.
The episode was not without behind-the-scenes drama. One of the sponsors for the  episode, entitled "Portrait Of A Murderer", was the Southern California Gas Company. They wanted to eliminate Bashor's trip to the gas chamber from the script. Producer Martin Manulis flatly refused and the episode aired as written.
Donald Bashor's story also claimed the attention of ten-year-old James Ellroy.  In 1958, his father gave him a copy of THE BADGE written by TV cop Jack Webb who portrayed Sgt. Joe Friday on DRAGNET. Bashor's case is the first one covered in the book. In large part it was THE BADGE that inspired Ellroy to become a novelist. It definitely sparked his interest in Los Angeles crime.  Now it's time for a shameless plug — I was fortunate to work with James Ellroy, Glynn Martin, Megan Martin, Nathan Marsak, and Mike Fratatoni on the book LAPD '53. The book project was one of the best experiences I've ever had.
EXTRA CREDIT

First, let me direct you to a clip from James Ellroy's CITY OF DEMONS (2011) in which he glibly recounts the Bashor case.
Next, a far more serious scene from the PLAYHOUSE 90 production of PORTRAIT OF A MURDERER