Dick the butcher: "The first thing we do, let's kill all the lawyers."

 –Henry The Sixth,  William Shakespeare
Like many residents of Los Angeles, Arthur Emil Hansen was a transplant. He had been a successful farmer in South Dakota before moving to the city in 1932. Perhaps he'd grown tired of farming and longed for a change; whatever the reason he had traded his 200 acre farm for the Chatham Apartments on Berendo Street. He assumed a $15,000 (equivalent to $256,000 in 2014 U.S. dollars) mortgage against the building. Subsequently, he traded his equity for an equity in another apartment house and assumed a $150,000 (equivalent to approximately $2.5M in current U.S. dollars) liability against it.

If not a real estate mogul, Hansen was fast becoming quite the wheeler and dealer. Following his success with the apartment building he then invested in an 800 acre parcel of land in the Imperial Valley. Unfortunately the deal didn't go smoothly, and by June 1938 the thirty-eight year old former farmer, and land baron wanna-be, had been tied up in a civil suit for over five years. For his part Hansen claimed that he'd never even taken possession of the ranch and that after signing the trust deed he was foreclosed upon. Arthur had lost both the apartment building AND the ranch for a total of about $39,000 (equivalent to $665,892.00 in 2014 U.S. dollars)–hardly a pittance at any time, and a veritable fortune at the tail end of the Great Depression. He was convinced that he had been swindled.
In the first round of litigation Hansen was awarded $7000, but the case didn't end there and more legal wrangling ensued. After all was said and done he was on the hook for taxes and water assessments for the ranch and Mr. John Hancock (no, I didn't make it up) was seeking to collect the $5000 judgement he'd won against Hansen in 1935.
On June 22, 1938, Hansen entered the courtroom of Referee in Bankruptcy on the eighth floor of the Hall of Records where he was about to lose every dime he had left–the real estate deals had gone south and paying an attorney over a period of five years is an extremely expensive proposition. Financially, Hansen was on crutches and they were about to be kicked out from underneath him. As soon as he crossed the threshold, he caught sight of the two attorney's who were representing his opponent.
The attorneys, J. Irving Hancock, who was representing his father (John must have saved a fortune in attorney's fees)  and R. D. McLaughlin, were seated toward the front of the room with their heads together. Anyone else observing the pair would likely have thought that they were conferring on a point of law, or maybe asking after each others wives and children, but as far as Arthur was concerned the two lawyers were sneaking glances at him, whispering, smirking, and plotting his complete financial annihilation.
E.F. Crozier, clerk in Commissioner Kurtz Kauffman's court, was working on some papers when he noticed Hansen enter the room and sit behind McLaughlin and Hancock. Then he heard shots. Crozier ducked behind the desk and then got up and ran for help.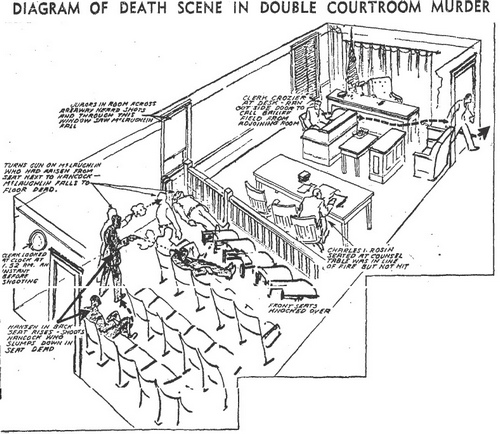 Deputy Sheriff Frederick O. Field arrived and took charge of the situation: "Don't let anybody in or out" he said. Field saw Hansen attempt to exit the courtroom and prevented him from escaping. Then  the deputy ordered the courtroom to be kept closed until Capt. William Penprase, head of the Sheriff's Bureau of Investigation, arrived with a squad of officers.
Hansen confessed on the spot:
"When I entered that courtroom and saw those two attorneys whispering together to harass me further I could not stand it. I wanted to kill them both–I am glad they're dead–they can't hurt anybody else."
Hansen was summarily booked in the County Jail, charged by Deputy Sheriff Killion with suspicion of murder and ordered to be held incommunicado for forty-eight hours.
Shortly after being placed in his cell, Hansen was interviewed by Gustav F. Boehme, Jr., a psychiatrist. Reporters attempted to get an in-depth statement from the alienist, but all he would say was that Hansen was emotionally excitable.
Hansen was definitely volatile, but even so he'd made some interesting allegations about harassment and about having been swindled by Hancock and a few others in the real estate transactions. Was he just hysterical, or had the South Dakota farm boy been duped?
NEXT TIME: Hansen's criminal case and aftermath.