Ewing Scott was likely the only person shocked by the court's decision to make Evelyn's bank the trustee for her estate. It still wasn't clear how much of his missing wife's money Ewing had managed to burn through before the plug was pulled on him.

Evelyn's brother, Raymond, was satisfied with the outcome of the trustee battle — the bank was his nominee. Ewing's attorneys were said to be plotting a new strategy to put him back in charge of the estimated $270,000 estate. But losing the trustee fight wasn't Ewing's most pressing problem. Rumors of a grand jury and possible indictments were looming large on the horizon.
Charles E. Beardsley, Ewing's lawyer, was engaged in a pitched battle in the press with LAPD's Chief William Parker. At the beginning of April, Beardsley fired another shot across Parker's bow with an accusation that his privacy was being violated because he was being followed by police.  Beardsley said: "I was able to decoy two of these (undercover police cars) into a cul-de-sac alley behind the San Marino Police Department and have the San Marino police shake down the occupants."  Beardsley was told that he was being followed by FBI agents, but he didn't buy it.  He talked to an agent in charge in Los Angeles and was told that the FBI had no reason to tail him.
Beardsley asked Parker to explain publicly why he was spending taxpayer money to follow him around, but Parker didn't take the bait.  All the Chief would say is that: "He (Beardsley) is talking about something of which I have no personal knowledge.  I have nothing to say until I do some more checking."
While Parker and Beardsley traded barbs in the newspapers, District Attorney Ernest Roll issued his own statement on the case. He warned Ewing not to leave town without official clearance unless he wanted to face an unlawful flight to avoid prosecution charge. The elephant in the room was the fact that no charge had been made against Ewing.  The Chief and the D.A. may have had a charge in mind, but  Was Chief Parker referring to financial malfeasance, or murder? Both?
Roll also said that: "Definite and positive action will be taken on the return of Asst. Chief Dep. Dist. Atty. Adolph Alexander from the East.  This action will be in connection with our phase of the over-all investigation.  Mr. Alexander presently is investigating Mr. Scott's handling of his missing wife's trust funds."
Would Parker's admonition change Ewing's mind about a business trip to the East? As far as Beardsley was concerned the LAPD and the DA better put up, or shut up. "We believe," said Beardsley, "Mr. Scott is free to conduct his ordinary affairs.  If you tell me you want to take Mr. Scott into custody, I will have him appear at your office today.  Otherwise, I will assume you do not wish to take him into custody.  His leaving the State is not to avoid prosecution, as is clear from his willingness to appear at your office."
Beardsley was about to get an answer to his question of what Ewing might be charged with.  During a trip to Washington, D.C. to attend the U.S. Attorney General's national conference on parole, Chief Parker told reporters: "This hasn't been published, but we found a partial (dental) plate and her (Evelyn's) reading glasses behind a wall near the incinerator at the Scott's house."
Rumors that Evelyn might be holed up in Maryland were immediately quashed by Parker who said, "She was never here."  Parker also hinted, none too subtly, that Evelyn Scott had met with foul play, "This looks like a case we'll have to try without a body."
Local coverage of the Scott case included a statement by Deputy Police Chief Thad Brown who said that two pairs of eyeglasses and a removable dental bridge belonging to Evelyn had been found by police during a search in the rear of the Scott home.  He told reporters: "They were buried at the base of the wall about six inches from the wall and covered with leaves and twigs.  It is hard, native soil at that point."  The denture was identified by Evelyn's dentist who also said that, as far as he knew, she didn't have a back-up.
It was looking less and less like Evelyn had vanished of her own free will.
On April 10, after the police disclosed that Evelyn's glasses and denture had been found in the back yard of her home. Ewing made his move. Officially, it was said that he had "taken a little trip to San Francisco." Coincidentally, LAPD Deputy Chief Thad Brown had decided to visit the city by the bay as well.
Perhaps Ewing and Brown were taking in the sights of San Francisco or enjoying crab cakes at the pier. In Los Angeles Police Chemist Ray Pinker conducted tests on materials found in the incinerator at the Scott's Bel-Air mansion.
With the possibility of hundreds of thousands of jewelry and cash missing from Evelyn's estate, the police were hoping to find clues in a safe deposit box rented by Ewing under an assumed name in Westwood. They found nothing of consequence.
Ewing was subpoenaed to appear before the grand jury on April 24th.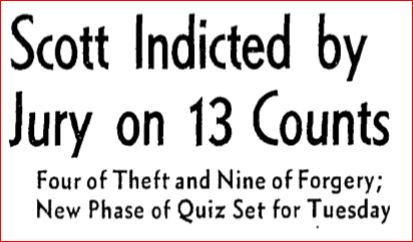 The grand jury indicted Ewing on 13 counts, 4 of theft and 9 of forgery.  His constant companion was divorcee Marianne Beaman who seemed to have no problem consorting with a man who may have murdered his wife. Marianne even flatly refused to testify about out-of-town jaunts she and Ewing had taken. Her refusal to speak could lead to a contempt charge.
Ewing's difficulties were multiplying exponentially.  In addition to charges of forgery and theft, and his failed "How to Fascinate Men" book scheme, four employees of an automobile agency at 200 N Vermont Ave came forward and identified Ewing as the man who has bilked them out of an unspecified amount each for a bogus hair restorer.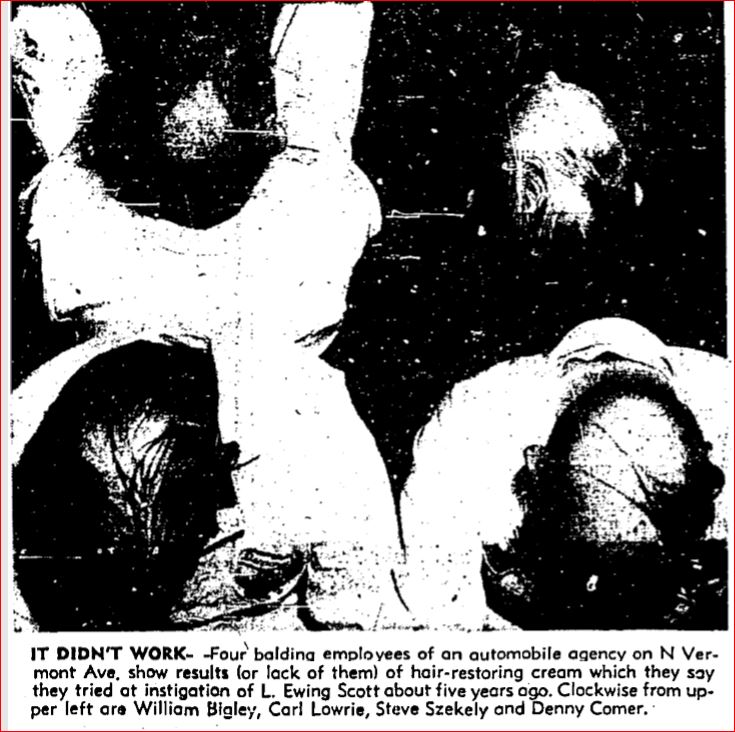 Ewing had talked glowingly about the miracle cream to the follicle-challenged quartet. The men agreed to pose for "before" top-of-the-head photos and following a month of using the cream they were supposed to pose for "after" photos.  The head showing the most improvement would win a $35 prize.  The men had neither seen nor heard from Ewing for five years. Then they he popped up in the newspapers in connection with his wife's disappearance.
On May 5, 1956, nearly a full year after her disappearance, Evelyn's maroon 1948 coupe, which had been driven by Ewing, was discovered in front of 2214 Washington Ave, Santa Monica.  Neighbors said the car had been sitting in the same spot for several days. Police investigated and found a bullet hole through the windshield on the driver's side. The bullet had been fired from inside the car and part of a lead slug was found on the seat, and the keys to the car were discovered beneath the floor mat.
Ewing wasn't with Marianne Beamann (who lived in Santa Monica); and he wasn't in Bel-Air either because his neighbors had not seen him for "several days."
Where in the hell was Ewing?
NEXT TIME: The corpus dilecti case concludes.