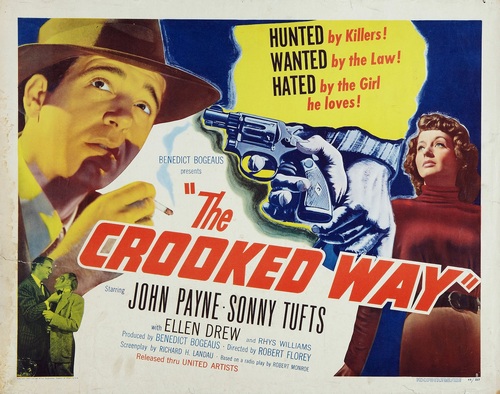 Welcome! The lobby of the Deranged L.A. Crime theater is open! Grab a bucket of popcorn, some Milk Duds and a Coke and find a seat. Tonight's feature is THE CROOKED WAY directed by Robert Florey and starring John Payne, Sonny Tufts and Ellen Drew.
THE CROOKED WAY has all the elements of a solid film noir: flashing neon signs, shadows on a wall, guys in suits, hats, killer ties and a dame with a grudge. Bonus points for some nice shots of post-war L.A.
TCM says:
Eddie Rice, a veteran suffering from amnesia, returns to Los Angeles from a San Francisco veterans hospital hoping to learn who he is and discovers that he is a gangster named Eddie Riccardi and has a police record. Although he does not know it, five years earlier, Eddie was acquitted of murder after turning state's evidence for homicide detective Lieutenant Joe Williams. His partner, Vince Alexander, took the "rap" and spent two years in prison. On a Los Angeles street, a woman recognizes Eddie and reports him to Vince, who sends his thugs to beat up Eddie. Holding an old newspaper clipping announcing the verdict that put him in jail, Vince confronts Eddie about the past and gives him one day to leave town.
http://youtu.be/roeY-s_nUmg