The holidays are a time for family, and Sarah Marquez and her two-year-old son, Eric,  were looking forward to Christmas 1953 with more enthusiasm than ever.  Eric was too young to recall his parents ever living together, they separated when he was an infant, but if all went well on December 18th, the family would be reunited.
December 18th came—Sarah gathered up Eric and they left her parents home at 208 West 97th Street to join her husband Reginald at his apartment at 15732 ½ Paramount Boulevard. Sarah and Reginald filled their arms with tree ornaments, toy trains and other gifts designed to make Eric giddy with delight.
The get-together went well at first, then Reginald began drinking. Beer cans and liquor bottles piled up on the floor and Reginald's mood turned ugly. Sarah tried to salvage the day, but it was impossible to reason with her husband. Unable to take Reginald's bad temper any longer, Sarah drew Eric to her and demanded Reginald take them back to her parents' home.
When they arrived at her door Reginald forced his way in and grabbed a knife from the kitchen. He waved the knife around and made threats terrifying enough to send her running for the bathroom.  She locked the door and waited for him to go.
Reginald refused to leave.  Instead he calmed and persuaded Sarah to come out so they could patch things up.  The attempt at reconciliation lasted only until Reginald saw a photograph of Sarah with another man, a mutual friend of theirs. The photo was taken during the period of their separation, but Reginald was not mollified. He became abusive and tore the photo into shreds.  He grabbed another knife and chased her around the house threatening to kill her. Sarah ran for the bedroom and slammed the door shut behind her.  In a blind rage, Reginald beat his fists against the door and then broke the knife against it.  He managed to force the door open and they took their struggle to the living room sofa.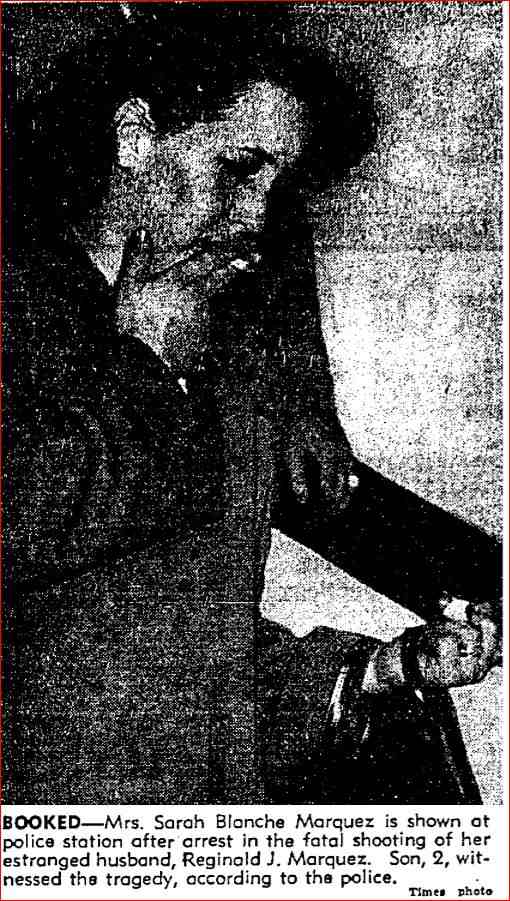 In desperation Sarah grabbed at the cushions.  She fumbled around and found the .32 caliber automatic pistol Reginald gave her when he returned from the war. She fired six shots. Two of the slugs smashed into Reginald's stomach and killed him. The other four rounds ricocheted around the room, fortunately none of them struck Eric who cowered in his crib.
Police from the Los Angeles Police Department's 77th Division took Sarah to jail.
Eric's maternal grandparents took Eric. The little boy had a lot of questions his grandparents didn't want to answer, so they let him open his presents a few days early.
NOTE:  The Los Angeles Times did not report any further on the case. It is likely that Reginald's death was considered self-defense.