Jack Green confessed to his role in the murder of Detective Lieutenant Crowley in the Fox Wilshire Theater in Westwood on January 11, 1932. He named his accomplice, James Francis Regan, as the the one who had fired the shots that felled the detective.

With Green in custody, LAPD officers were turning over every rock in the L.A. area. They had managed, through a lead given them by Green, to locate the doctor who had rendered aid to Regan shortly after the shooting. The cops figured that there was a better than even chance that Regan had succumbed to his wounds and was either lying dead along a roadside or his criminal companions had disposed of his body in some remote location.
Green testified at the inquest conducted by Deputy Coroner Monfort at the Hall of Justice. Green offered his pathetic excuse for the slaying:
"We didn't mean to kill Crowley. We thought he was the manager. He just walked into it, that was all. We heard him enter the lobby while we were in the office and stepped outside to meet him. He saw us, jerked out his gun and started shooting. One bullet whizzed past my face and burned me. Regan then grabbed his gun and started shooting."
According to Green, he and Regan ran from the theater:
"I looked back as both Regan and I ran from the theater and saw Crowley on the floor. Regan was wounded by a bullet from the officer's gun, and we stumbled across a vacant lot to where an automobile was parked in front of a store. As we climbed into the car, a woman ran out, but we drove away and abandoned the car at Gardner Avenue and Sunset Blvd. We took a cab from there to Joe's apartment."
Once at the apartment Green tried to locate a doctor.
"I phoned a friend of Joe's and he called a doctor. I don't know the doctor's name. After that I went home to bed. Before going home I burned some of Joe's clothes and sent his suit to the cleaners."
Deputy Coroner Monfort asked Green pointblank about his involvement in the attempted hold-up.
Green responded:
"I was in on the hold-up, but I didn't shoot. I had a gun but threw it away after we left the theater."
Green's gun, discovered by a gardener, was introduced in evidence at the inquest. Green said he had no idea where Regan had gone after the doctor came and dressed his wound.
"The bullet went right through him and he was in bad shape," Green said.
Inspector of Detectives Davidson issued a plea through the local press asking citizens to phone in with any tips as to Regan's whereabouts. Davidson seemed to feel that the best chance law enforcement had of catching up with Regan was through a member of the public noticing something unusual and making a call.
"We have run down every clew leading through underworld channels without success. Green was caught through citizens observing him enter his room at 956 North Western Avenue after he and Regan had abandoned the stolen automobile they used to get away from the scene of the shooting. Perhaps the same kind of tip will lead us to Regan's rendezvous."
About a week after Crowley's murder the nude, bullet-riddled body of a man was found near El Centro, but his description didn't match that of Regan. Cops were back to square one.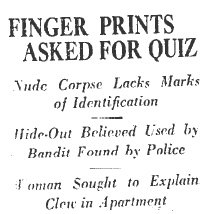 Detectives located two people they thought may have assisted Regan — Mrs. Joan Murray, who was suspected of having rented the Wilshire district apartment where Regan was kept for three days following the shooting; and Leo Boster who was supposed to have procured the car in which Regard was taken to San Francisco. During interrogation Murray and Boster provided cops with information which lead officers to the San Francisco flat where Regan was captured.
Regan was in bad shape as a result of the slug he'd taken to his abdomen, Crowley's final act, but he was well enough to start shifting the blame for Crowley's murder to his accomplice, Jack Green.
According to Detectives Condaffer and McMullen, during the trip from San Francisco to L.A. Regan admitted firing the shots that had killed Crowley, but when he was taken to the theater and asked to re-enact the shooting Regan was non-committal.
"Don't ask me that; you know I can't talk about it."
When he was asked if he had anything to say for himself, Regan said:
"No, I guess not."
Then, as if it was a valid excuse, he added:
"I was shot first."
Regan was positively ID'd by the three men he and Green had bound and gagged in the office at the Fox Wilshire Theater. Regan's only comment was:
"I suppose I'll be hung."
A jury found Jack Green and Joseph Regan guilty of murder in the first degree and recommended the death sentence — neither man showed any emotion as the verdict was read.
The verdicts were appealed, but the California Supreme Court upheld the murder convictions, as well as the conviction of the pair on a first-degree burglary charge.
A dead man walking can become extremely desperate, and Regan attempted to finger a third man who was supposed to have been involved in the robbery that resulted in the fatal shooting of Lt. Hugh Crowley. The man named by Regan was a Folsom convict, Thomas Kelly. According to Regan, Kelly was employed by a Los Angeles bond house and it was his idea, not Green's or Regan's, to hold-up the theater. Green and Regan each received a reprieve while the legal wrangling continued.
Governor Rolph had been urged by six of the jurors to sustain their original verdict and hang the two cop killers. Other members of the jury had evidently had second thoughts about the verdict and felt that the killers should be allowed to live.
Jack Green won the death penalty lotto when his sentence was commuted by Governor Rolph to life without the possibility of parole — but Regan would still walk the thirteen steps to the gallows because he actually fired the shot that killed Crowley.
Many citizens were outraged that Governor Rolph ignored the fact that Green had planned the crime which resulted in Hugh Crowley's death, and it was Green who had asked Joseph Regan to be his accomplice.  It seemed obvious that both men should have been equally culpable but, as Mr. Bumble said in Dickens' Oliver Twist: "…the law is an ass."
 I agree.