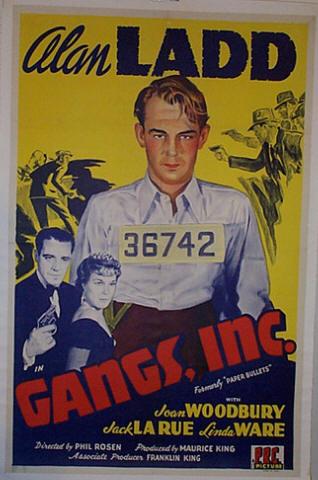 Welcome! The lobby of the Deranged L.A. Crimes theater is open. While I am working on the final installment of COPS BEHAVING BADLY: THE DEATH OF STANLEY BEEBE, why don't you take a film break.
Grab a bucket of popcorn, some Milk Duds and a Coke and find a seat.
Tonight's feature is GANGS, INC. (aka PAPER BULLETS) starring Alan Ladd, Joan Woodbury, Jack LaRue and Linda Ware.
TCM says:
At a playground, little Rita Adams is enjoying a reunion with her ex-convict father when he is suddenly shot to death. Rita is sent to an orphanage, where her closest playmates are Bob Elliot and Mickey Roma. Her father's prison record continues to haunt Rita as an adult, and she loses her factory job when she cannot get bonded. Rita's roommate, aspiring singer Donna Andrews, secretly calls Bob, now an aerospace engineer, hoping he can help his old friend find work. Bob has always loved Rita, but she is involved with Harold DeWitt, the dissolute son of the powerful Clarence DeWitt, who disapproves of their relationship. While they are driving one night, the intoxicated Harold hits and kills a pedestrian. Acting on the advice of his father's attorney, Bruce King, Harold persuades Rita to take the blame for the accident, promising to marry her and assuring her that she will not have to serve time.
Is it just me or does Harold's promise to marry Rita strike a false note?  Sounds to me like another big lie along the lines of: "The check is in the mail", or "I'll always love you."  I'm sure I'll be shouting at the TV telling Rita not to believe him, but I don't imagine she'll take my advice.
Enjoy the film!