The charges against John True were dismissed so that he could testify against Graham, Perkins and Santo. In order to keep True safe he was moved to a secret hideaway and guarded 24/7.
If convicted on the murder conspiracy charge the remaining three defendants could be given the death penalty. A jury would first have to determine the degree of murder. Then, if they agreed it was first degree and declined to make a recommendation, the death penalty would be mandatory.
The indictment for murder apparently hit Barbara Graham pretty hard. She collapsed in her jail cell and banged her head on the floor. She seemed to have fallen with enough force to rob her of her ability to speak. The doctors had their doubts though because her hospital record stated that she either "could not or would not talk".
The doctors' suspicions may have been well founded. Later, while she on her way to court, Barbara tumbled down some stairs.  She'd been overheard saying: "When I really get into my act I'm going to make Sarah Bernhard look like a chump."
Barbara's injuries weren't serious and she was soon well enough to become involved in a minor altercation with another prisoner.  The woman, Mary Kendall Curtis (serving a year for contributing to the delinquency of her own daughter) taunted Barbara about the likelihood of the gas chamber in her future. Barbara belted her. Curtis said that Graham had "a wallop like Joe Louis".  Graham didn't deny smacking her cellmate, she said she'd been offended by Curtis' irreverent and profane remarks. Curtis was transferred to another cell.
The trial began with John True's testimony. His story was somewhat different than the statement Baxter Shorter had given the cops prior to his kidnapping and disappearance. Shorter had said that it was Emmett Perkins who had beaten Mabel Monohan with a gun butt — True testified that it was Barbara. True's testimony would result in the Herald dubbing her "Bloody Babs".
"Mrs. Graham was striking Mrs. Monahan in the face with a gun.  She was standing up and Mrs. Graham had her by the shoulder or hair with her left hand and was striking her with the gun in her right hand."
Later, people looking for a reason to believe that Graham was innocent of murder seized on his testimony, apparently she was believed by some to be left-handed — even though on a handwriting sample card she stated she was right-handed.
Barbara had  made one friend while she was in jail — twenty year old Donna Prow. Prow, mother of two, was doing a year in the County Jail for manslaughter. She'd been involved in a head-on collision in which a woman was killed and three other people seriously injured. Prow willingly became involved in a plan to snare Barbara into making a fatal decision.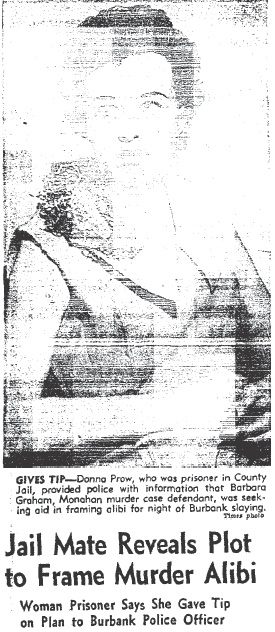 The plan was simple; Barbara would be given the opportunity to buy herself an alibi for the night of Monohan's murder. Donna, with whom Barbara was having a sexual relationship, told her she knew a guy, a 'fixer' who, for $25,000, would testify that he and Graham were together on the night of the crime.  Barbara supplied a code phrase, which was a paraphrase from The Rubaiyat, by Omar Khayyam: "I came like the water.  I go like the wind."  When one of her visitors spoke the code phrase, she'd know he was the fixer.
Barbara met the fixer, and together they worked out an alibi for her. She wouldn't see the man again until he walked into the courtroom, not as a witness in her defense, but rather to testify against her. The fixer turned out to be Sam Sirianni, a cop; and he'd recorded their jailhouse conversation.
Much of the recorded conversation was inaudible, which was a plus for the defense. Unfortunately for Graham there was one portion of the tape that was crystal clear — it was the part where Sirianni asked her if she had been with Perkins, Santo, True, and Shorter on the night of the crime and she answered: "I was with them".
Just as damning was her response to Sirianni when he pressed her about Baxter Shorter, and if he'd come forward to testify at the trial. Barbara said there was nothing to worry about, Shorter wouldn't turn up. Sirianni asked again about Shorter's whereabouts and Graham said "use your imagination".
Barbara had more bad news coming. Her husband, Henry Graham, was a witness for the prosecution. He testified that he and Barbara had argued violently and that he was staying with his mother on March 9th, that he couldn't have been at home arguing with Barbara as she had finally claimed.
Things went from bad to worse for Barbara when some of the notes that she had written to Donna Prow were read in open court. The notes were filled with terms of endearment and were sexually suggestive — the notes undoubtedly shocked many of the jurors.
It was during the reading of the notes and the exposure of the attempt to buy a false alibi that Barbara lost her composure and cried out: "Have you ever been desperate?  Do you know what it is?"
Barbara's husband Henry switched his story and said he'd been with her the night of the murder — but it was too little, too late.
Barbara was the only defendant to take the stand. Perkins and Santo had planned to testify and Santo's common-law wife, Harriet Henson, was going to provide them with a false alibi. Harriet was no genius and her statements to the cops  implicated her, along with Santo and Perkins, in the 1951 slaying of Ed Hanson a Nevada City miner during an attempted gold robbery.
Santo and Perkins were also implicated in the vicious murder of Guard Young and three small children in Chester, CA in 1952. They'd later be tried and sentenced to death for those crimes too. There was no way that Perkins and Santo were going to avoid the gas chamber.
The three defendants are found guilty of the charges against them in the Monohan case. The jury made no recommendation for life sentences.  They were  doomed.
Following the verdict Barbara Graham snapped: "As long as they found me guilty of something I didn't do, I'd rather take the gas chamber than life imprisonment."
NEXT TIME: The executions and some final thoughts.