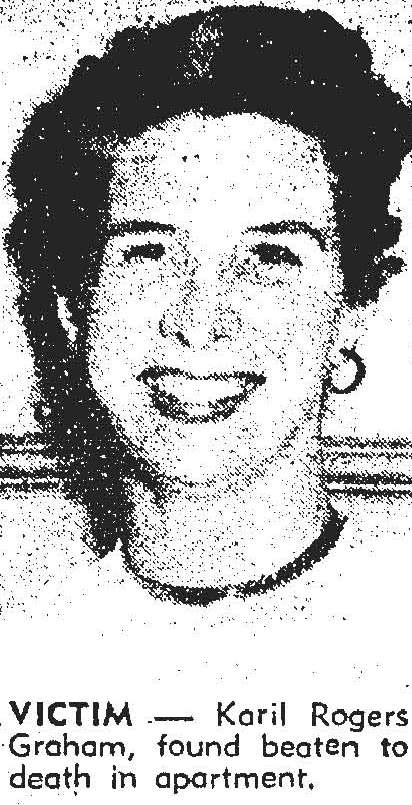 Karil Graham, an attractive divorcee in her late 30s, had always wanted to be an artist. She studied fine art in New York, but eventually she realized that she didn't possess the natural talent to have a successful career. Unwilling to completely give up on her dream, Karil found a great way to be involved in what she loved most–she became the registrar at Art Center School, 5353 West 3rd Street. She spent much of her working day counseling budding artists, and the rest of her time in the company of talented faculty members. Karil had a warm smile that lit up her face. She was so well liked by the students that she was thought of as their "mother confessor".
On Friday, February 18, 1955, Karil prepared dinner in her poolside apartment at 271 South Carondolet Street for two men she knew from school. One of them, Phil Hays, was a student, and the other man, Jack Potter, was an instructor. The dinner was in celebration of a painting, "Bird of Paradise"–a gift to Karil from Phil. After dinner Phil and Karil went for a swim in the heated pool behind her building, while Jack relaxed on the patio. The two men left after midnight.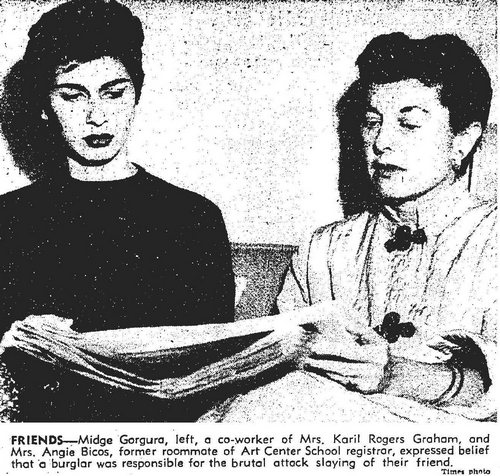 Karil had a midnight snack and then prepared to go to bed. She removed her makeup, slipped into her nightgown and put her hair up in curlers. Then she turned on the electric blanket and got into bed.
About 5 am Anita Loeber, who lived in the apartment above Karil's, heard what she thought was a muffled scream. She had just moved into the apartment and was still getting accustomed to the unfamiliar sounds and habits of her neighbors. She didn't hear any other noises and, because her phone hadn't been installed yet, she couldn't call the police. Anita went back to sleep.
At 2 pm on Saturday, February 19th, Eleanor Lipson, Karil's landlady, walked past Karil's apartment and noticed that the door was open. When Eleanor looked closer she saw a bare leg: "I didn't think it was Karil because she wouldn't be lying nude with the door open." Eleanor didn't investigate further until 6:30 pm. Whose naked leg did she think it was? And why did she believe it was unnecessary to investigate further until over four hours later? In truth it wouldn't have altered the outcome. When Eleanor and her husband entered Karil's small studio apartment and found their tenant dead. Karil's face was covered with her own nightgown, a blanket, and a bedspread. There was blood spatter on the walls of the ransacked apartment, and Karil's bed was soaked with blood.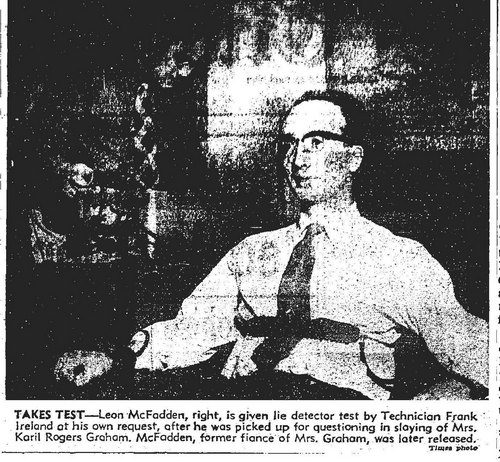 Los Angeles Police Department homicide detectives, Jack McCreadie and Charles Detrich, arrived and tried to make sense of the scene. Karil had sustained at least two devastating wounds to her head, but no weapon was found. During their examination of the crime scene they discovered a bloody fingerprint on the inside of the front doorknob. The knob was removed and sent to the crime lab, along with human hair found under one of Karil's fingernails.
The detectives thought it was possible that Karil was killed during a burglary. They also considered another scenario, that someone had killed her and then staged the scene to look like a burglary.
The first person of interest in the case was Karil's former boyfriend, Leon McFadden. Leon was picked up by the LAPD for "routine questioning." He told police that he hadn't seen Karil in several months and that he had absolutely nothing to do with her murder. He was so adamant about his innocence that he demanded to be given a lie detector test "to clear me in this thing once and for all." Police obliged.
Leon, who owned a greeting card shop at 166 1/2 N La Brea Avenue, was grilled for over three hours before detectives declared that his story was "straight" and released him.
If Leon hadn't murdered the popular art school registrar, then who had?
NEXT TIME: Three suspects and a mystery witness surface in Karil Graham's murder.