Karil Graham's former flame, Leon McFadden, passed a lie detector test and was cleared of her murder.
Investigators were back to square one.
Square one in this case was to conduct a thorough search of police department records for recently paroled "hot prowl" burglars living in the area. Hot prowl burglars are the creepazoids who enter a home while it is occupied. The risk is increased for the perpetrator, and that may be the point of it. Sneaking around in a home while the inhabitants watch TV, listen to the radio or, even more terrifying, as they sleep, is a major rush for some of the more twisted souls who walk the planet.

The records search turned up the names of three possible suspects; although only one of them, a 37-year-old ex-con named Clifford Russell Pridemore, was arrested. LAPD picked him up near 7th and San Julian Streets downtown–the heart of Skid Row. According to detectives, Pridemore was well-dressed when they busted him–a fact which they found to be very suspicious given he had no visible means of support.
Pridemore had been released from Folsom in July 1954 after serving a term for burglary. His modus operandi as a burglar was eerily similar to the circumstances in Karil's murder case. And the fact that Pridemore had a history of assaulting women made him a solid suspect.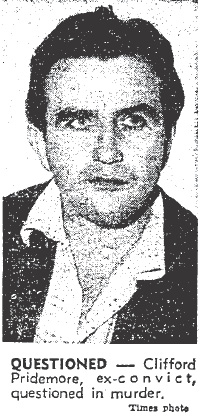 Curiously, three nurses who lived a few doors down from Karil had slept through the hot prowl burglary of their apartment on the same morning that Karil died. Their empty handbags were found on the porch outside their door. It seemed likely that the person who killed Karil had creepy-crawled through the nurses' apartment too. Was that man Clifford Pridemore?
While detectives continued to sift through the few available leads, Karil's brother-in-law, H.L. Manley, made arrangements to clear out the dead woman's apartment.  One of Karil's prized possessions was an original water color painting by Raoul Dufy. The painting was valued at about $1800 (over $16,000 in 2016 dollars). Manley told reporters that the painting, along with Karil's other belongings, were headed for storage "at least until we can decide what to do with them."
Karil's body was released by the Coroner on February 23rd and taken to the Heath Funeral Home in National City for a funeral in San Diego–which is where her mother lived.
Police leaned hard on Pridemore but he never wavered in his assertion that he had nothing to do with Karil's slaying. LAPD assigned another team of detectives to work with Jack McCreadie and Charles Detrich–Howard Hudson and Harry Hansen. Hansen was one of the principal detectives in the 1947 mutilation murder of Elizabeth Short, the Black Dahlia. (The case was unsolved in 1955 and remains so to this day.)
A possible witness, unnamed by the cops for fear of reprisal by the killer, came forward. The witness had observed a man loitering in the immediate vicinity of Karil's apartment at least twice. Once on the night she was killed.

A couple of weeks following Karil Graham's murder police announced they were investigating the slugging of Emily Jones, 26, a local dance hall hostess. Jones had awakened in her apartment at 474 South Hartford Avenue as a prowler attempted to assault her. He beat her with a bottle and his fists, then he fled through a window. Evidently Jones' assailant had entered the apartment after removing the screen from an unlocked window.
For reasons that they didn't make public, LAPD detectives were convinced that Jones' attacker was not the same perpetrator who had bashed Karil's head in.
Karil's inquest was held on March 8, 1955 and it took the jury only 10 minutes to decide that she had been murdered "by unknown person(s)."
However, the killer was not Clifford Pridemore–police were able to clear him.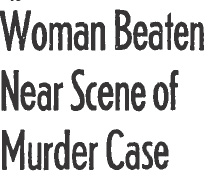 In May 1955 a woman was brutally beaten near the scene of Karil's slaying. The victim, Nadia Copmpaneitz, a social science student on a visa from France, was attacked by an intruder who ripped the screen from a window in her apartment at 143 North Reno Street.
Nadia told police that she awakened at 4 am–certain that she was not alone in her room. Suddenly gloved hands tightened around her throat. She was able to roll away from the man. Enraged, the intruder beat her and left her with wounds to her scalp and eye. Nadia was fortunate. She lived.
The leads in Kari's murder dried up and the case went cold.
NEXT TIME:  A knife attack, another murder, and a suspect in Karil Graham's murder.