Captain Bright and the homicide squad had no shortage of suspects in Laura Sutton's murder. Her ex-husband, Eugene, may have wanted her dead so that he could  stop paying alimony. Laura and her sister Ida had been estranged because of Ida's relationship and pending marriage to Eugene. Letters written by Laura to Eugene had been discovered, and in them she expressed her desire to start over with him. Together, or separately, Ida and Eugene may have murdered Laura. Then there was Ben King who rented a room in Laura's house. Apparently Ben had been courting Laura–but so had Dr. Westlake. What if  Ben became so jealous of the doctor that he murdered Laura rather than lose her to another man? Even Laura's brother Emerson De Groff may have had a motive–he was supposed to inherit some land, maybe there was more than just an unrecorded deed at stake.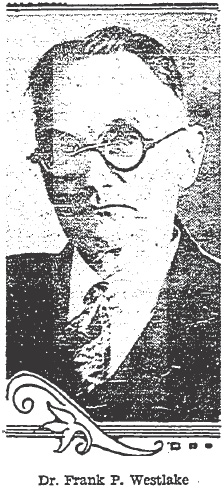 Lastly there was Dr. Frank Westlake. He was the only one of the suspects with a knowledge of human anatomy, and probably the only one  who owned a scalpel.
One of the basic tenets of a homicide investigation is cui bono.  Who benefits? Which of the suspects stood to gain the most from Laura's death?
Homicide investigators collected a lot of circumstantial evidence, all of which pointed to Dr. Frank Westlake. Westlake had deeds to many of Laura's properties, large sums of her cash and her bank books. He had been named as a beneficiary in her will and in a life insurance policy. Oh, and remember the missing Liberty bonds? Westlake had those too.
Apparently Dr. Westlake had been acting as Laura's financial adviser for six years, long before her divorce from Euguene. Following the divorce Westlake had taken complete charge of Laura's finances and had convinced her to open a joint bank account with him. She deposited $750 –the doctor hadn't contributed a dime.
Detectives quizzed Ben King.. He said he had proposed marriage to Laura–a union to which Westlake was vehemently opposed. An argument broke out among the three of them and, according to King, Laura grabbed a pistol and held it to her head. That's one way to end an argument.
King relieved Laura of the weapon and later gave it to Westlake. He said the argument had occurred on March 26th and that he had never seen Sutton again.
Dr. Westlake's initial statement to detectives was that Laura had summoned him to her house several days following the argument. She wanted a lift to the train depot where she could catch a train for Ventura. She planned to confront Eugene and  Ida.
According to the doctor his car broke down at Pico and Union and Laura got out and caught a street car. He never saw her again. Westlake's story fell apart in some crucial ways. The letters supposedly written to him by Sutton were determined to be forgeries. Then there was the note for $200 which he claimed had been endorsed by Laura on the 3rd of April and mailed from a small Arizona town. Again the experts said the signature was a forgery.
Dr. Westlake enlisted the aid of Ben King, asking him to keep a vigil at the cemetery where Laura's mother was buried. Both men knew that Laura visited the grave several times a week and decided that she might turn up there. For an entire week Ben pulled all night graveside stakeouts. Westake didn't participate, but he regularly drove out to the cemetery to visit with King and to encourage him to stay.
Detectives were further troubled by the murkiness of Dr. Westlake's past. The doctor claimed to have graduated from the Eclectic Medical School in Cincinnati in 1900. Eclectic medicine relied on botanical remedies and was the antithesis of modern Western medicine as practiced in the 18th and early 19th centuries. California didn't recognize medical degrees from the Eclectic Medical School so Dr. Westlake was not permitted to practice here.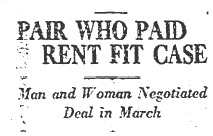 Circumstantial evidence against Dr. Westlake continued to accumulate, but what Captain Bright wanted most was a crime scene.  Every member of the homicide squad was dispatched to locate the scene of the murder and dismemberment. While seeking the crime scene Sheriffs discovered that a home had been rented during the last week of March by a couple who resembled Westlake and Sutton. The couple had paid two months' rent in advance. When he was questioned about it Westlake admitted that he and Laura had been "house hunting" for several days before she disappeared and had visited at least eight vacant homes in the Edendale district, all of which would need to be searched.
Deputy Sheriffs Allen, Gray and Gompert found bloodstains splashed all over the walls and floor in the bathroom of Dr. Westlake's home. They had the bathtub removed and the "gooseneck" in the pluming was tested. Gompert's portable crime lab came in handy.
The blood in the bathroom "forged the final link in a chain of circumstances" which the D.A. felt were compelling enough to formally charge Dr. Westlake with Laura Sutton's murder.

The evidence against him didn't seem to bother Westlake. He denied harming Laura and, in fact, insisted that she was still alive.
NEXT TIME: The conclusion of the L.A. River Torso Slaying.