A Coroner's jury found Gray McNeer responsible for the murder of his wife, Betty.  The gun used in the murder and attempted suicide was a weapon Gray had stolen from Harry Harris, a friend of his.  Harris, a harbor guard, discovered his gun and some shells were missing after Gray's visit the night prior to the shooting.  When detectives showed Harris the weapon, he identified it as his own.
Gray wasn't able to appear at any hearings because he was in serious condition. On August 6th his attorney, S.S. Hahn, announced that Gray would appear in court that morning. The defendant was in bad shape as a result of the gunshot wound to his head. He was blind in one eye, deaf in one ear,  partially paralyzed and he still had a bullet lodged in his brain. Despite the gravity of his injuries, Gray appeared for his preliminary hearing before Municipal Judge Galbreth, just as S.S. Hahn said he would. The defendant's head was swathed in bandages and he was in a wheel chair, but at least he'd made it.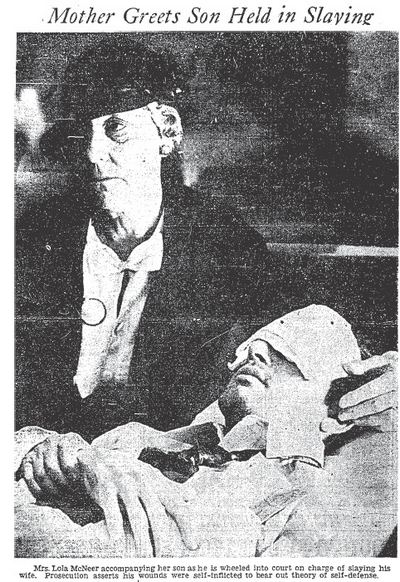 Gray's mother, Lola, remained at her son's bed side and on August 24th it was reported that she had given her official consent for an operation to remove the bullet from his brain.  It isn't clear why a man in his 30s would need his mother's consent, but it may have been that he was in no condition to give it himself.  S.S. Hahn told the court that in his present condition Gray was in imminent danger of death and that, even if he survived, he might be become "an imbecile."  The operation was given odds of 100 to 1 that it would succeed; but it was Gray's only hope.
S.S. Hahn requested a continuance of the trial so that Gray could undergo the potentially lethal surgery.  The request was granted. But would any of the local surgeons be willing to undertake such a delicate procedure?  The answer was no.  Specialists at General Hospital declined to perform the surgery even though they agreed that Gray was doomed without it.  The same group of surgeons put Gray's odds at less that 1000 to 1 for survival.
Of course S.S. Hahn had a lot to say about the doctors' refusal: "His mother wants that chance to be taken.  She wants to save her son and we are going to operate if it takes a court order to do it."  The attorney found four brain specialists who were willing to volunteer for the surgery, but General Hospital balked.  Hahn said: "They tell us that nonresident physicians are not permitted to operate at the General Hospital and since the patient is charged with murder he cannot be removed from there.  Well, we will see what the courts have to say about that, too." Judge Schmidt responded with a court order which permitted the outside physicians to perform the surgery on Gray's brain.
Surgery was scheduled for September 8, 1934, but after he took a turn for the better the operation was put on hold indefinitely. Ten days later, Gray appeared in court once again. He was still bandaged and in a wheel chair. He entered a not guilty plea and he still publicly contended that Betty had shot him first and then killed herself.
McNeer and Hahn were in court on October 25th for opening statements. Gray was a pathetic sight. Would the jury be swayed in his favor even if they believed his misery was self-inflicted?  Hahn outlined his case for the jury.  He said that he was going to prove:
That Mrs. McNeer on three previous occasions had threatened to end her own life.
That several nights before the shooting, Mrs. McNeer went to the home of Harry B. Harris, special officer, at 1030 Hyperion Avenue, and sought to borrow his gun.
That the day before the shooting Mrs. McNeer called again at Harris's home and remained there alone for some time.
Court adjourned when Gray collapsed and had to be returned to the County Jail Hospital.
The following day Gray was in court moaning, groaning and muttering incoherently. He yelled out: "You wouldn't treat a yellow dog like you are treating me; why don't somebody give me something?"  Following a few more outbursts, Judge Burnell addressed Gray: "You will have to keep quiet; this sort of thing will not be allowed at all, Mr. McNeer.  Thi sort of theatricalism has got to stop right now, and you might as well know it."  Then the judge turned to Hahn and said: "Can't you do something with your client, Mr. Hahn?"
Hahn objected to the Judge's admonition and there was a short recess.  Once back in the courtroom, Judge Burnell spoke to the jury:  "Ladies and gentlemen of the jury, I am making this statement to you at the suggestion and with the consent of counsel for both sides, the People and the defendant.  You, of course, could not help but observe the fact yesterday afternoon that the defendant was making more or loess noise, talking and groaning, and the Court made some remarks about ceasing the theatricals, or something of that sort.  That, of course, is something that you haven't any business to pay any attention to, and I want you to entirely disregard it.  The defendant is here   on trial for one specific offense, and all the jury have any right to consider whatever is the evidence in the case and nothing else.  I know you will appreciate that and be able to do that, but for your information, in view of the apparent condition of the defendant, I am trying now to get hold of Dr. Blank, the jail physician, to come down here and tell us whether he thinks from his examination of the defendant there is any reason why the case should not continue. In other words, whether or not the defendant is in a condition physically and mentally that will preclude going ahead with the trial.  Until we hear from Dr. Blank, we will go ahead, and if there is any demonstration on the part of the defendant, you will disregard it.  You are not here to try anything except the facts in this case."
Dr. Blank examined Gray and ascertained that he was in more pain than he had been in previously and that he was on sedatives continuously.  The doctor feared that Gray's sanity was being affected and advised the judge to suspend the proceedings until a determination could be made.
The judge did exactly what Dr. Blank had advised him to do, and the trial was continued to October 29, 1934 at 10:00 a.m.  Gray's sanity would be decided then based on an examination conducted by Drs. Benjamin Blank, Victor Parkin and Paul Bowers.
NEXT TIME: Will Gray McNeer's trial continue