In March 1932 the Elyria, Ohio Chronicle Telegram sang the praises of an Avon High School sophomore for scoring ten field goals, bringing his team to its eleventh straight win for the season. The young man had his whole life ahead of him.
Fast forward to Omaha, Nebraska, April 1936. Marion James Linden, former high school grid iron star from Ohio, was living up to the speed he showed in scoring ten field goals. Unfortunately, the 23-year-old was speeding towards a life of crime. Marion was busted for stealing two automobiles, kidnapping three men and staging a holdup in only 45 minutes. Quite an accomplishment.

Why was Marion on a crime spree? He told reporters: "I wanted to commit self-destruction in such a way my insurance policy would not be invalidated through the suicide clause." Suicide by cop would have been his parents the princely sum of $1200 (equivalent to $20,814.77 in current USD). No doubt the cash would have helped his family weather the Depression. Marion entered a guilty plea, but a few days later he reappeared in court and changed his plea to innocent. He was placed on probation for 2 years.
By early February 1937, Marion was living in Denver, Colorado. By mid-February he was in jail on a murder charge. Marion shot Arlene, his 18-year-old bride of two months, in the heart.
Marion believed that while he was in Texas trying to find employment as an oil field worker, Arlene was in Denver having an affair. When Marion returned from Texas he immediately went to the home of his in-laws, the Cochrans, where Arlene was staying. He told Detective Captain James E. Childers that he pleaded with Arlene to give up her lover, and when she refused he shot her. But there may have been more to Marion's motive than jealousy. Capt. Childers quoted Marion as saying that a divorce would have revealed a violation of his Nebraska probation agreement and he would have been compelled to return there to serve out the three year sentence for his mini-crime spree in April 1936.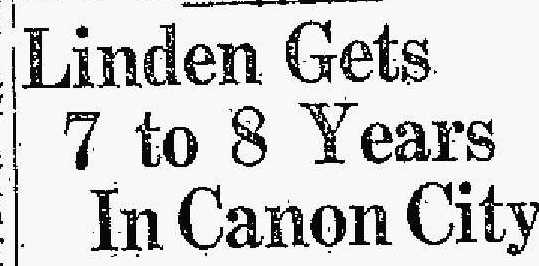 Marion was convicted of voluntary manslaughter. Judge Henry A. Hicks pronounced sentence–from seven to eight years in the state penitentiary. Lewis D. Mowry, Marion's attorney, said that the his client had no plans to appeal, nor would he seek a new trial.
After serving only three years of his sentence, Marion was released in 1940. At that point he falls off the radar. Did Marion go straight? As an ex-con he may have found it difficult to get a fresh start, but If he committed any further crimes they weren't newsworthy.
Marion resurfaced in Los Angeles in 1957 where he would once again be the topic of news stories.
Next time:Marion's story concludes.