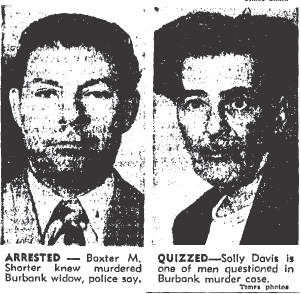 On March 26, 1953, five men were arrested and held for questioning in the slaying of Mabel Monohan. The men were: Solly Davis (a one-time Mickey Cohen lieutenant); William Upshaw and John Wilds (both Mickey Cohen associates); Joe Allen; and Baxter Shorter.
All five men were career crminals — Upshaw had been frequently arrested on gambling charges, Davis had been incarcerated in two Federal pens, Leavenworth and Atlanta, and in the New York State Prison, Sing Sing. Baxter Shorter had a record that dated back to 1927.
The men were acquainted with Mabel Monohan through her former son-in-law, Las Vegas gambler Tutor Scherer. It was the lure of $100k of Scherer's cash, allegedly hidden in a safe in Monohan's home, that had brought a gang to her doorstep resulting in her brutal murder.
The cops had to kick the bad guys loose, they didn't have enough to hold them; but the arrest was enough to convince Baxter Shorter that his best chance for staying clear of the gas chamber at San Quentin was to turn State's evidence before any of the other members of the gang were busted and could beat him to it. There's usually only one get out of jail free card available in a capital case, and Baxter grabbed it.
Baxter told the cops he'd gone along on the Monohan job as a look-out. Of course that was a lie, he was there to crack the safe supposedly hidden in the house. Shorter further stated that he'd seen Perkins slug Mrs. Monohan on the head with the butt of a gun. He also said that he'd been horrified to witness the murder. That may have been the truest statement he made. He was undoubtedly terrified to have become involved in a death penalty case.
Shorter probably would have walked on the Monohan murder, and lived to commit other crimes, if details of his statement hadn't been leaked by someone close to the investigation. Once his duplicity became public Baxter Shorter's days were numbered.
Only a few weeks after the Monohan slaying Baxter Shorter was kidnapped at gun point from his Bunker Hill apartment at 121 North Flower Street. Shorter's wife, Olivia, identified the two kidnappers as Emmett Perkins and Jack Santos.
Shorter's kidnapping left the Burbank cops with a huge problem. He was an eyewitness to the Monohan murder and had been willing to testify in court to save his own sorry ass. If he had really been kidnapped the chances of him being found alive were slim to none.
The car believed to have been used in the kidnapping was found abandoned near an apartment at 5124 Imperial Blvd; and that's where Emmett Perkins, Jack Santo, and Barbara Graham were busted.
The sedan was owned by one of Jack Santos' girlfriends, Brenda Pearney of Grass Valley, California. It had recently been repainted and the mat in the rear trunk compartment was missing. Police Chemist Ray Pinker turned up some small pieces of wood and a little yellow flower in the car that he took to the Los Angeles County Museum for identification.
The wood was ribbon wood, found only in Southern California and usually in the San Jacinto Mountains at an elevation of between 2500 and 3000 feet. The flower had no common name, but was identified as metzelia affnis and it too could be found at elevations of between 2500 and 3000 feet.
If Baxter Shorter's remains were buried off a lonely mountain road at an elevation of 3000 feet then he was likely as close to heaven as he would ever get.
Emmett Perkins was arraigned on charges of kidnapping and assault with a deadly weapon in Shorter's kidnapping. Barbara Graham was charged with seven counts of forgery. She'd gone on a shopping spree in March and April and had passed $266 worth of rubber checks. Santo was released on the kidnapping beef and walked out of court into the waiting arms of Burbank cops who cuffed him and took him in for questioning on the Monohan slaying. They had to release him for lack of evidence, but he wasn't free for long. He was soon rearrested and charged with forging a fictitious telegram to Baxter Shorter's mother. The telegram read:
"Sorry to have been away. See Olive (Olivia) and tell her not to make the mistake 'cause I have to return one of these days. All my love. Baxter"
Circumstantial evidence was beginning to mount.
To add to the drama a new witness in the Monohan case came forward. The witness was an ex-con named William Upshaw. He'd voluntarily surrendered to police when he heard that he was wanted in connection with Shorter's kidnapping.
Upshaw  was cleared of any involvement in the Shorter kidnapping, and he was the first witness called to testify before the grand jury in the slaying of Mabel Monohan. Cops were understandably edgy because of Shorter's abrupt disappearance, and they weren't about to lose another witness. Upshaw was heavily guarded around the clock. He testified that he'd been with the gang: Graham, Perkins, Santo,True and Shorter when they'd cased the Monohan home on the night before the crime. He knew all about the plan and had opted out. He decided that he wanted nothing to do with robbing Las Vegas bigwig Tutor Scherer. He remembered what had happened to Tony Trombino and Tony Brancato back in 1951.
Trombino and Brancato, known as the Two Tonys, were murdered in a car after cheating Las Vegas gambler Sam Lazes out of $3000 by posing as collectors for a local syndicate gambler. Upsahw had no desire to mess with Vegas and end up like the Two Tonys.

On June 3, 1953 Perkins, Santo, True and Graham were indicted by the county grand jury on charges of conspiracy to commit burglary, robbery and murder in the death of Mrs. Mabel Monohan.
The cops and the D.A. lucked out when John True decided to turn State's Evidence in exchange for his freedom. Apparently the indictment in a capital murder case scared John True straight — or as straight as he could be. Taking no chances with this witness, cops guarded John day and night against possible retaliation.
NEXT TIME: The trial and aftermath.