The hypodermic needle was invented in 1854 and the first effective local anesthetic was cocaine, which was used in an eye surgery in 1884. Those discoveries, and the many others that followed, paved the way for modern doctors to perform surgeries and other invasive medical procedures that patients could actually hope to survive.
The first facelift is said to have been performed by Eugen Hollander in 1901 in Berlin on an elderly Polish aristocrat who wanted her cheeks and the corners of her mouth lifted. The
surgery was successful and the patient was reportedly pleased with the outcome. The first textbook on facial cosmetic surgery was written by Charles Miller of Chicago and was
entitled: The Correction of Featural Imperfections (1907).
Legitimate medical professionals and their patients benefited from scientific advancements but sadly criminals also found a way to profit.
For decades medical quacks have made their homes in Los Angeles. The degree to which they have believed their own advertising has varied —  some of the practitioners may have been sincere and deluded, while others have undoubtedly been conniving and cynical seeking only to separate gullible Angelenos from their cash.
By the early 1900s personal ads in the local newspapers hyperbolized the wonders of modern medical science for the removal of pimples, wrinkles, crows feet, double chins, thin necks and superfluous hair. One ad exclaimed:
"Premature Ugliness is a Crime which has its effect on coming generations."
I have no idea what the hell that was supposed to mean, but presumably answers could be found at the Cosmetic Surgery Company in the Johnson Building at the corner of Fourth and Broadway.
Among the early practitioners of cosmetic procedures in Los Angeles were Professor David and Mme. Gertrude Steele. This advertisement for their services appeared in the Los Angeles Times on April 21, 1907:
It seemed that there was no dermatological miracle the Steele's couldn't perform — that is until March 1908 when they permanently disfigured Mrs. G.W. Du Bois.
Mrs. Du Bois said that she'd read the Steele's advertisement which guaranteed the harmless removal of wrinkles and spots from the face, and filling in of hollows by a unique chemical substance. The Steele's promised a refund if their work was unsatisfactory, so what did she have to lose?
A money back guarantee for a medical procedure wouldn't inspire confidence in me, but Mrs. Du Bois went ahead with a visit to the Steele's downtown clinic.
A few days following her treatment lumps had formed on either side of Mrs. Du Bois' nose, on top of it, and on the left side of her neck. She found it impossible to lie down at night, was in constant pain, and was informed by doctors that the lumps could not be safely removed. Arsenic, prescribed to cure the facial spots, affected Mrs. Du Bois' health so adversely that the roots of her eyebrows were burned out.
In her lawsuit the injured woman stated that she was permanently disfigured and her health was ruined. She requested $1000 [approximately $26,000 in current U.S. dollars] in damages and the refund of her original payment of $100.
During the one day hearing in Judge Hutton's court, Mrs. Du Bois and the Steele's each presented their side of the case. Mrs. Du Bois spoke of the pain and suffering she had endured, while Gertrude Steele insisted that the disfigured woman was attempting to extort money from them.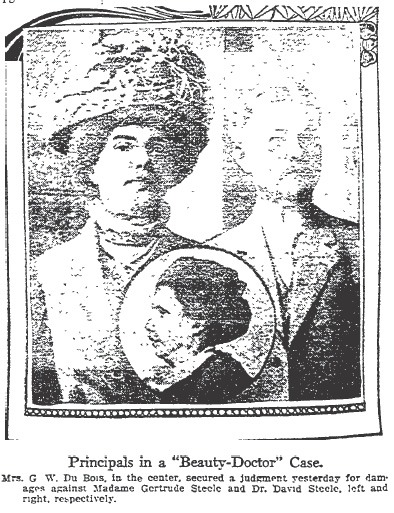 Judge Hutton ruled against the Steele's and they were required to pay Mrs. Du Bois every penny she had asked for in her suit. The injured woman went home to her life of constant pain and deformation, and the Steele's remained in business. In fact Mrs. Steele continued to deliver lectures on "How to Remain Young Forever".
Either the Steele's managed not to disfigure anyone else for the next decade or no one who had been harmed came forward because there was nary peep out of them, except for their advertisements, until 1919.
In December 1919, Gertrude Steele (who by that time was calling herself a doctor) killed her son-in-law George Blaha with an accidental overdose of chloroform. The "doctor" had administered the anesthetic to ease the pain caused by the mixture of chloroform and carbolic acid she had used in an attempt to remove freckles from his face.
Maybe the so-called doctor would be held to answer in criminal court for the death of her son-in-law. Maybe not.
NEXT TIME: Dr. Gertrude Steele's reign of error continues.