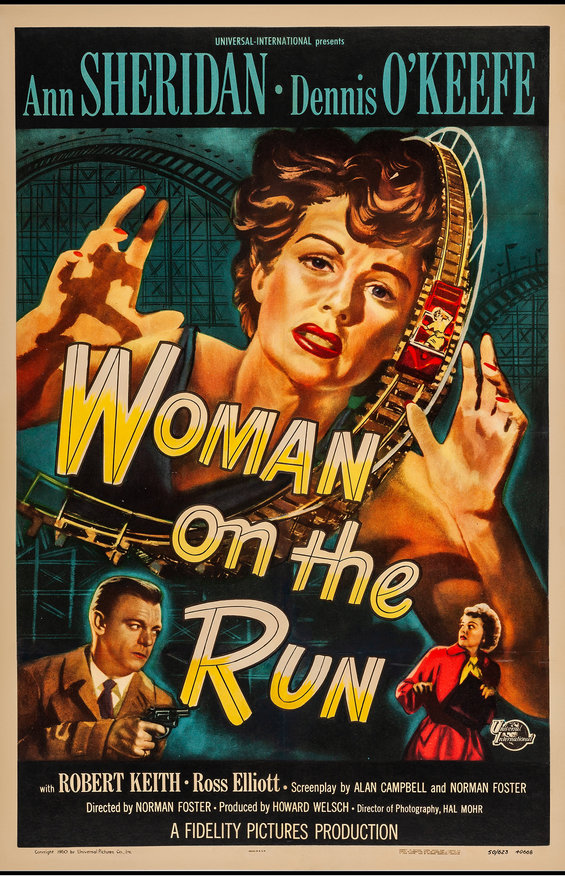 Welcome! The lobby of the Deranged L.A. Crimes theater is open. Grab a bucket of popcorn, some Milk Duds and a Coke and find a seat.
Tonight's feature is WOMAN ON THE RUN, starring Ann Sheridan and Dennis O'Keefe.
Enjoy the movie!
TCM says:
After San Francisco artist Frank Johnson witnesses the gangland murder of informant Joe Gordon while walking his dog, Inspector Ferris attempts to take him into protective custody. Afraid that he will be killed if he testifies against the murderer, Frank instead runs away. Ferris questions Eleanor, Frank's estranged wife, about her husband, but she offers little help. Ferris does convince Eleanor, however, that Frank would be safer in police custody than alone on the streets. Later that night, Eleanor sneaks out of her apartment and goes to a nightclub in Chinatown. She is followed there by tabloid reporter Dan Leggett, who offers to pay her $1,000 for exclusive rights to Frank's story.