It was a few minutes into August 9, 1969, and Mrs. Seymour Kott of 10170 Cielo Drive heard a series of claps. She couldn't identify the source or location of the noise and so she went back to sleep.
Winifred Chapman, maid for director Roman Polanski and his wife actress Sharon Tate, arrived at their home at the far end of Cielo Drive at 8:30 a.m. to begin work. The quiet street is a cul-de-sac between Beverly Glen and Benedict Canyon. Birds chirping, a dog barking or the occasional coyote call are about the only sounds you hear; but there was an unnatural quality to the stillness that morning.
Winifred saw a white two-door Rambler sedan in the driveway.  She didn't recognize the car and approached it with caution.  She saw a young man behind the wheel slumped over toward the passenger seat. There was blood on his shirt and his left arm.
As she continued toward the sprawling home she found the body of Voytek Frykowski on the front lawn.
Under a fir tree, about 20 yards away, she found Abigail Folger's bloody body.
The horror followed Winifred into the living room.  Sharon Tate, 8 ½ months pregnant and dressed in her bra and bikini bottom, had a bloody nylon cord wrapped around her neck. The cord looped around a beam in the ceiling.   Someone tied the other end of the cord around Jay Sebring's neck and placed a black hood on his head.
Terrified, Winifred ran to a neighbor's home for help.  Fifteen-year-old Jim Asim was preparing to leave when she stopped him screaming, "there's bodies and blood all over the place!"
Asim, a member of Law Enforcement Troop 800 of the Boy Scouts, called the police.  Moments later six LAPD black and whites roared up Cielo Drive to its end where there is a wire gate outside the Polanski residence.  Guns drawn; the officers entered the property. They heard a dog howling behind a guest house and a man's voice shouted for it to be quiet.
In the guest house, nineteen-year-old William Etson Garretson looked up to see his doorway crowded with police. They had shotguns trained on him.  He was still half asleep, dressed only in pin-striped bell-bottoms.  He did not understand why the cops were there.
After several hours of questioning, they took Garretson into custody and arrested him on suspicion of murder. As the only living person on the premises he was the obvious suspect.  Yet there was no physical evidence tying him to the deaths.
Police in Garretson's hometown of Lancaster, Ohio, told LAPD investigators the kid had committed one offense of little consequence.  He received a two-year suspended jail sentence in 1967 for contributing to the delinquency of a minor.  Mary Garretson, his 42-year-old mother, told police her son left home in October 1968 "without saying goodbye but had written saying he hoped to return home soon."
Garretson was a quiet kid and lacked the personality to take control of five adults and viciously murder them.
Garretson didn't even work for the Polanski's and had only a vague notion of who they were.  He lived in the guest house and kept to himself.  The property owner, Rudy Altabelli employed him as a caretaker
In Europe when he received the news of the slayings, Altabelli offered no reason for the murders.
Someone cut the telephone lines into the home, which suggested a plan. There was no weapon at the scene except for pieces of a pistol grip.
It was 1969, so it was no surprise that all the victims wore "hippie type" clothes – their mode of dress was enough for the police to search for drugs. They found none.  As far investigators could tell nothing appeared to be missing – which ruled out robbery as a motive.
They found evidence of a struggle and wondered; why had not one of the five victims escaped the carnage?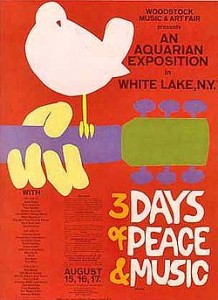 As LAPD detectives followed scant leads to dead-ends, talk on the street was of the upcoming Aquarian Exposition in White Lake, New York. Many people from L.A. planned to make the trek. Billed as three days of peace and music, the festival promised to be amazing. The younger generation had a chip on its shoulder and something to prove. Sex, drugs, and rock 'n roll. Fuck Nixon. Fuck the War. Life is beautiful, man.
The dream was already dead.
NEXT TIME:  Two more murders.