Clara Bow's former secretary Daisy De Voe had attempted to use her insider knowledge of Clara's private life to extort money from the actress; but the truth was she didn't know much that was worth reporting. So what if Clara liked to party, that was hardly big news in Hollywood. Clara refused to pay her off.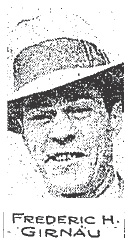 When Frederic Girnau (the publisher behind the excretory rag The Coast Reporter) and Daisy De Voe put their malicious heads together they concocted a revolting 60 page document called "Clara's Secret Love-Life as told by Daisy."
Girnau contacted Rex Bell and offered to sell The Coast Reporter for $25,000 — but Bell, acting on Clara's behalf, rejected the offer. The spiteful Girnau then sent copies to Will Hays (first president of the Motion Picture Producers and Distributors of America, and the man for whom the Hollywood censorship code was named), Superior Court Judges, and local PTA officials. By doing so the idiot violated Section 211 of the U.S. Penal Code which prohibited "mailing, transporting or importing anything lewd, lascivious, or obscene."
Over the years there have been many outrageous stories circulated about Clara Bow. The genesis of the worst of them was Frederic Girnau's Coast Reporter. The Coast Reporter accused Bow of everything from drug addiction and drunken sex sprees in Mexico to bestiality. It's no wonder that as soon as she was able Clara left with Rex Bell for his Nevada ranch. Her nerves were shattered.
If Clara had believed that her Hollywood friends would stick by her she was sadly mistaken. There appeared to be few differences between the Hollywood crowd and De Voe and Girnau.
Even though Clara was obviously going through an emotional crisis of Herculean proportions Paramount producer, B.P. Schulberg, didn't cut her an inch of slack. On the contrary, he bullied her until she relented and agreed to return to the studio for her next picture, "The Secret Call".
Clara managed to get through the costume fitting and a private rehearsal with director Stuart Walker. But on the day she was supposed to begin shooting at the studio she awoke well before her 6 a.m. call screaming and sobbing hysterically.
Clara's housekeeper was unable to calm her and phoned Rex Bell for help. When Rex arrived he found Clara still hysterical repeating: "I can't do it, I can't do it."
Rex carried Clara to his car and drove her to the Glendale Sanitarium where she was diagnosed with nervous exhaustion.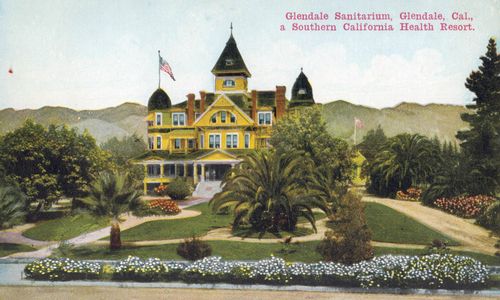 Schulberg used Clara's fragile condition to his advantage. He told her that her health was the studio's primary concern and that they wouldn't hold her to her contract if she wanted out. It sounded warm and fuzzy, but It was a disingenuous way of manipulating Clara into saying publicly that she couldn't fulfill her obligations to Paramount. She told columnist Louella Parsons: "I don't wanna hold Paramount to no contract". It was the perfect escape hatch for Schulberg and he took it. He had a release form drafted which relieved the studio of any financial obligation to Clara, and she signed it. Schulberg had saved Paramount $60,000 [equivalent to over $900,000 in current USD].
Clara's role in "The Secret Call" went to newcomer Peggy Shannon. A former Ziegfeld Girl, and a redhead like Bow, Shannon had been in Hollywood for a very short time when she was spotted by Schulberg who groomed her to be the next "It Girl". Peggy's life became another tragic Hollywood story. Her career never really took off and she died of complications from alcoholism in 1941 at age 34. Her husband found her slumped over the kitchen table with a cigarette in one hand and a glass of booze in the other. The poor man was so devastated that he committed suicide shortly after Peggy's death.
Ironically, B.P. Schulberg's career didn't survive much longer than Clara's. He was pushed out of Paramount, probably due to his liberal politics. He became an independent film producer but Paramount stopped distributing his films in 1937. He produced a few films for Columbia, but retired from the business in 1943.
Clara and Rex were married not long after the trial ended. They had two boys together and they remained married until Rex's death in 1962. Clara suffered from emotional problems throughout the years and her issues resulted in an estrangement from her family. She spent the last years of her life living in Culver City under the constant care of a nurse.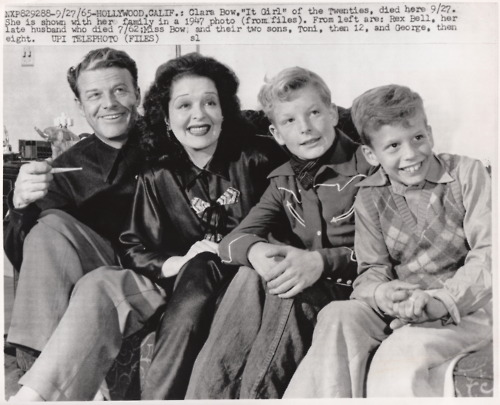 Clara Bow died of a heart attack on September 27, 1965.
What happened to Daisy De Voe and Frederic Girnau?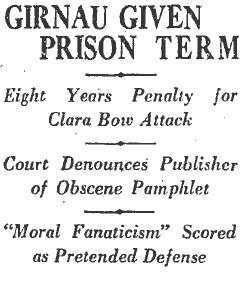 Frederic Girnau spent forty-two months in a Federal slammer for his poison pen attacks on Clara. Actually, that's not quite true. The attacks themselves, had they not risen to the level of obscenity, would not likely have caused any problems for the muckraking publisher. However, once they were deemed to be obscene and then sent through the U.S. mail Girnau was in deep trouble. He was released in September 1934, but when he violated his parole by driving drunk he was returned to Leavenworth Prison to finish out his term of 8 years. He died in 1955.

Daisy De Voe (whose real surname was DeBoe) served eighteen months in L.A. County Jail following her conviction for stealing a fur coat from Clara. Daisy wasn't the only member of her family to have problems obeying the law.
Daisy's father was arrested in 1931 on a possession of liquor charge (not his first), and her sister Grace was busted in September 1932 after a raid on a still in North Hollywood.
Maybe Daisy matured and reformed because I couldn't find any trace of her in newspapers after 1933, until she surfaced in her mother's January 11, 1974 obituary. Daisy had married — her name was Daisy DeBoe Stanek. She'd probably had children too, because her mother was survived by five grandchildren and seven great-grandchildren.
The harm that Daisy and Girnau had done to Clara was incalculable. But game, set, and match were won by Clara.
DeBoe and Girnau may have enjoyed their fleeting notoriety, but Clara Bow left a legacy of brilliant performances. She has a star on Hollywood's Walk of Fame, while DeBoe and Girnau are barely footnotes in Hollywood history.
The last words belong to Clara:
"My life in Hollywood contained plenty of uproar. I'm sorry for a lot of it but not awfully sorry. I never did anything to hurt anyone else. I made a place for myself on the screen and you can't do that by being Mrs. "Louisa May Alcott" Alcott's idea of a "Little Women".