Donnell Cooley was born in Oklahoma on December 17, 1910 to Emma and John Cooley. The family was dirt poor and by 1920 they had moved to Oregon in pursuit of a better life.  John worked in a saw mill so the family still lived from hand-to-mouth. They were fortunate in one way, John had inherited his family's musical abilities and was a decent fiddle player.  He passed  along his passion and talent to his son, in fact by the time he was 8-years-old Donnell was performing professionally with his father at local square dances.
Following in the footsteps of many musicians before him, Donnell moved to Los Angeles in 1930. He worked as an actor–he was Roy Rogers' stand-in; and toured as a singer with the Riders of the Purple Sage. He also picked up the nickname Spade, thanks to his prowess as a poker player. He may not have known it them but, lucky in poker, unlucky in love.
In 1942 Spade took over as the leader of Jimmy Wakely's group, the house band at the Venice Pier Ballroom. The band was large and often had multiple singers, one of whom was Tex Williams. The band was extremely popular and pulled in huge crowds every weekend. When Bob Wills and His Texas Playboys moved West, Cooley found himself with some serious competition. He'd had a disagreement with the Ballroom's promoter, Burt "Foreman" Phillips, and was fired. Prior to his departure from the Ballroom, Cooley demanded a 'Battle of the Bands' to be held over two weekends. Never known to be shy or retiring Spade announced,  in advance of the battle, that he was the winner. Then he coined the term the 'King of Western Swing.' It would be used ever after to describe both Cooley and the musical style.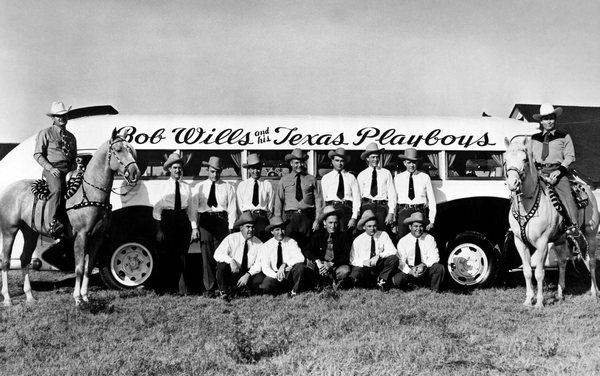 He was still married to his first wife, Anne when, in 1942, he met Ella Mae Evans. Bobby Bennett, Spade's band manager, declared that "She had no voice," but Cooley was smitten with the petite blonde, who was 13 years his junior, and hired her anyway. The pair married in November 1945, just a couple of months following his divorce from Anne.
Over the next couple of years Spade became even a bigger star. He'd had a hit with "Shame on You" in 1945 and six more chart toppers followed in succession.
Ella Mae's singing career ended when she became pregnant. She gave birth to their first child, Melody, in 1946.
Wearing a cowboy hat instead of a crown, Spade took the appellation of King seriously and he ruled Ella Mae with a iron first. Not long after the marriage, and shortly before Melody's birth, Ella Mae found her husband with another woman in their home. She packed her bags and told him he could find her at her sister's. Spade told her that if she ever left him he would find her and kill her. Ella Mae believed him and stayed.
Spade had always had a bad temper. He'd run through musicians and singers by the dozen and those he didn't fire often left of their own accord because they couldn't deal with the boss. Spade was a heavy drinker; but drunk or sober he was capable of throwing a world class tantrum. Could he kill?
NEXT TIME: Spade's career peaks and his marriage hits bottom.